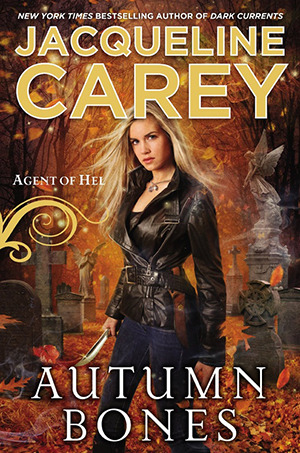 Fathered by an incubus, raised by a mortal mother, and liaison to the Pemkowet Police Department, Daisy Johanssen pulled the community together after a summer tragedy befell the resort town she calls home. Things are back to normal—as normal as it gets for a town famous for its supernatural tourism, and presided over by the reclusive Norse goddess Hel.

Not only has Daisy now gained respect as Hel's enforcer, she's dating Sinclair Palmer, a nice, seemingly normal human guy. Not too shabby for the daughter of a demon. Unfortunately, Sinclair has a secret. And it's a big one.

He's descended from Obeah sorcerers and they want him back. If he doesn't return to Jamaica to take up his rightful role in the family, they'll unleash spirit magic that could have dire consequences for the town. It's Daisy's job to stop it, and she's going to need a lot of help. But time is running out, the dead are growing restless, and one mistake could cost Daisy everything…..
I just love finding a new to me urban fantasy series! This is one that I just happened to find at the library and I will admit that it was the cover that caught my attention when I was checking out some books for my husband. It's the time of the year where falling leaves really tend to get my attention since we don't have a lot of color change here in Washington.
I really liked the main character Daisy who has her doubts just like any woman but also has the worry about not claiming her birthright from her father. Talk about added stress since if she claims it all kinds of really bad things will happen. And her job as Hel's enforcer didn't come with any training so it really is learn as she goes.
The secondary characters in this book really add to the story. Jen, her best friend and her Zander, is human and really helps to keep Daisy grounded. Her mother is also a real grounding influence. And then there are the men in Daisy's life which as all just yummy in their varied ways. I will admit to being part of Team Stephen.
I really enjoyed AUTUMN BONES and have already put the second book in the series on hold at my local library. I do recommend this book to any of my readers who enjoy urban fantasy that isn't too explicit sexually.